Victoria hotel at Fontainebleau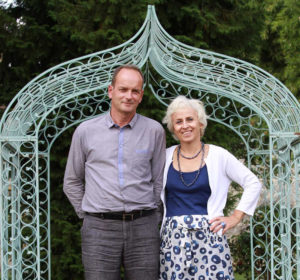 Charm, calm and comfort, a relaxed atmosphere and attentive service
Two large and beautiful houses with plenty of character, numbers 112 and 122, are connected by a charming private park. Practical yet aesthetically appealing, the Hotel Victoria awaits you!
This bourgeois house has been dedicated to the hotel business for a century and a half. The hotel registers reveal that the 19th century writers George Sand and Alfred de Musset stayed here several times.
You could pass by the discreet porch at the entrance to this establishment several times before you realise that it is actually a hotel …
The lobby, cosy lounge, and stylishly colourful stairs and plush landings welcome you for a smooth check-in.
Isabelle Bolgert and Paul Bertier, the owners of these charming houses, will be happy to organise your family events or business meetings if you wish.
The hotel offers an enclosed car park at the rear of the garden.
• Peckish? A meal tray can be prepared at any time
• Newspapers and magazines
• Laundry service
• Personalised welcome
• Bicycle loan service
• Office services available on request (fax, printer and photocopier)
• Taxi by reservation
Hotel
Bedrooms
Events
Virtual visit

on-site closed parking
The Hotel Victoria Fontainebleau invites you to discover its various special offers.
• New: a small additional welcome! Want tea, herbal tea or coffee? A courtesy tray is provided in your room for your pleasure and our bar menu is available for an assortment of drinks served in the lounge or the garden!
• For a more convenient family break we offer two connecting rooms (40% discount on the second bedroom)
• Breakfast offer until March 31st, 2018: a free breakfast per room if you book directly by e-mail or by phone (01 60 74 90 00).*
• Take advantage of our many special online offers: one-night stopover * for professionals or weekend packages * for a relaxing stay
Offers (* cannot be combined with each other nor with the displayed promotional prices) are valid for direct bookings on this site, by e-mail or by telephone (01 60 74 90 00)
INFORMATION IMPORTANTE: COVID-19

L'hôtel Victoria reste fidèle à ses valeurs au service de ses clients pendant la crise sanitaire. Nous sommes mobilisés pour vous accompagner, que vous soyez obligés de renoncer à votre voyage ou contraints de le maintenir pour des raisons professionnelles ou personnelles.
Nous assurons, en room-service, un repas complet chaud le soir. N'hésitez pas à nous appeler pour organiser votre séjour : 01 60 74 90 00
L'accueil est aménagé de façon à limiter les échanges et nous assurons le service du petit déjeuner individuel et de prestations de room service dans des conditions d'hygiène strictes. Nous vous remercions pour votre compréhension, et souhaitons à chacun de respecter le mieux possible les consignes de confinement et la solidarité indispensable les uns avec les autres.
Votre santé est notre priorité durant votre séjour : pour suivre l'évolution de la situation en France face au COVID-19, vous pouvez retrouver toutes les informations sur le site gouvernement.fr
Prenez soin de vous et à très bientôt !

Télécharger notre Protocole sanitaire covid-19

Nous sommes impatients de pouvoir vous accueillir à nouveau sereinement dans notre hôtel, pour vous faire découvrir le meilleur de la vie locale.
Isabelle et Paul